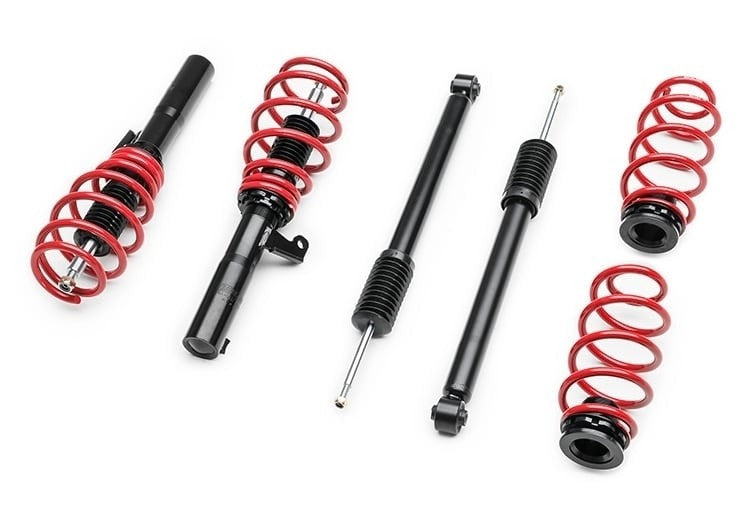 Audi A3 Saloon 8V 50mm Strut Coilovers
Our Audi A3 Saloon 8V 50mm Strut Coilovers give you the option of lowering your A3 25mm-75mm below the stock height with the use of our adjustable CNC-machined locking perches and included spanner wrenches. By lowering the ride height of your A3, it gives you the ability to perfect your stance and lower the center of gravity of your car. This means that you will see an increase in the handling and performance of your car while still maintaining a comfortable ride quality. These coilovers have been designed and road tested specifically for the 2012+ A3 50mm Strut to achieve a perfect balance of street comfort and increased performance to enhance stability and grip.

To protect your suspension from the harsh winter months and salty coastal air, our dampers and springs have been powder coated for an extra level of surface corrosion resistance.
As with all Raceland products, these coilovers come with a 30-day satisfaction guarantee and an exclusive limited lifetime warranty.
***Please Note: When lowering your car, it is very important to run correct wheel fitment to prevent any rubbing of the wheels/tires on other components. Depending on your wheel offset, tire size etc, you may need to use wheel spacers and/or roll the fenders of the vehicle.**Only Suitable for 50mm model with Independent Rears**Please contact us prior to purchase to confirm your model if you are unsure