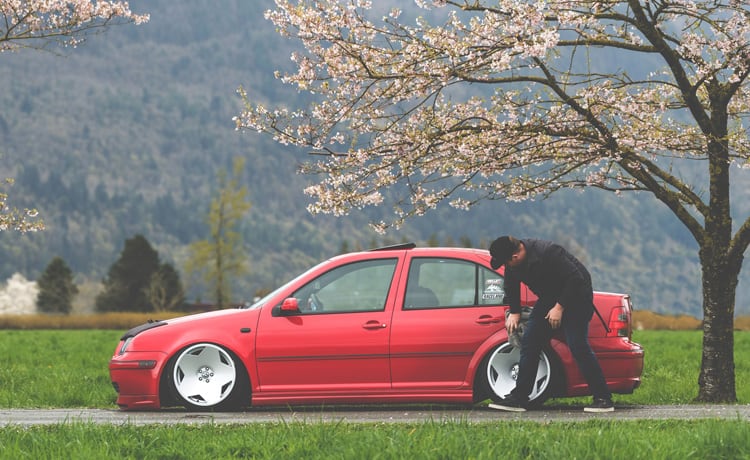 A Bagged Labor Of Love | Mitchell TenHoeve's MK4 Jetta
"I have always had a love of cars. It's in my blood. My interest in MK4's started at age nine when my parents bought their MK4 TDI. I went along for the test drive and afterwards I was eyeing the Celica in the showroom at the dealership. When I suggested we get the Celica instead, my Dad assured me the MK4 was a way "cooler" car. I grew up in that MK4, learned to drive in it and never looked back. When it came time to buy my own car, I didn't even look at the other cars my friends were interested in the 350z or 240s. I went straight to the Jetta. This is my third one and my favourite, so far....
Onto the important stuff. The car currently has a Raceland bags and I'm running Airlift Performance 3P management. The whole trunk setup was built by myself, other than the welding of the manifold mount. The wheels are VSP type 2's with rolled fenders. Passenger side frame notch. IDF bent tie rods, IDF drop plates, and removed swaybar.
For the engine, it's just a simple stage 2 setup with 42DD 3" Turboback exhaust, Neuspeed P-Flow intake and the supporting mods that go with stage 2. Engine to be swapped out this winter with a fully built big turbo 1.8T. The exterior I have VXT headlights, Autobrahn bra, Oettinger roof spoiler, badge-less grill, full GLI body kit, and the trim is all painted black (which was never the plan but the previous owner had ruined the chrome with spray paint).
The interior is still pretty stock with the full GLI package w/brushed aluminium trim, but with a few little upgrades, such as golf 337 red-stitched seat belts, custom red-stitched floor mats, perforated and red stitched shift boot and e-brake boot, BFI billet brushed aluminium weighted shift knob, and to tie it all together a perforated red-stitched steering wheel from Grip Royal w/ quick release from NRG."
@twirlystache
Photo Credit:
@thriller90 (Tyson Hiller)
@ranthkelly (Ryan Kelly)