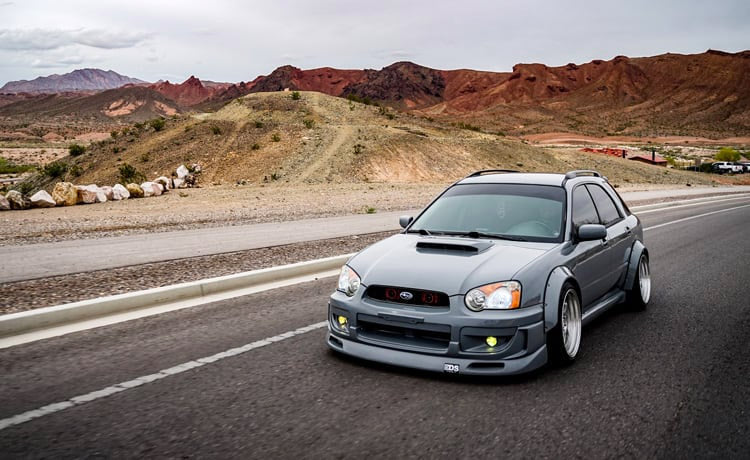 A Work Of Art In The Desert | Gendell Espero's '04 WRX Wagon
Las Vegas, NV | March 22, 2019
"I'm originally from Hawaii and moved to Las Vegas for school. I'm currently pursuing my degree in Nursing. Overall, I'm a pretty normal guy, love spending time with friends and family and love to cook and wrench on cars, sometimes at the same time, basically changing oil while I have something cooking in the oven :) .
I've always been into cars, my first car was a '01 Honda Civic. Living on an island, it's definitely harder and more expensive to get parts so you have to be more creative when building a car, while also keeping it different. Growing up, I always liked clean looking cars; nice rims, perfect fitment, and a amazing sound. That's where I came up with the look I was going for on my 2004 Subaru WRX wagon.
I got the wagon back in 2016 from a friend who was moving out of town. She took really great care of the car. It was all black interior and she even installed an AEM intake. After that, I installed a Cobb accessport,Cobb down pipe and full exhaust. I originally got some BC coilovers for the car to get it lowered and it ran great. A year after driving it like that, I met up with a buddy of mine, who had a Mazdaspeed 3 on bags and I thought it was so awesome, never having to worry about the difficulty of changing ride height and going over stupid speed bumps. So, I found that Raceland made air suspension for GD Subarus and I was sold. I purchased it straight from the website and got to the install. I'm running with a Viair tank and manual management.
Once I got done with suspension I noticed that the paint was starting to show it's years, so I had a friend of of mine paint my Subaru Nardo Gray. I also wanted it to stand out and stand wide so I installed Cliched New School Fenders. I've had the car for 3 years now and it looks amazing, but like everyone, I don't feel like it's done yet!"
-Gendell Espero